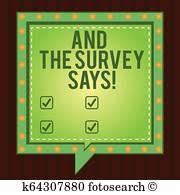 USD 335 Shares JHHS Survey Results
Adrianne Walsh
Saturday, July 11, 2020
95 responses were received for the Jackson Heights High School & Middle School Return to School Survey. USD 335 would like to thank all the parents for their time to complete this survey. The results are below.
1. Are you planning to send your child(ren) to school for traditional face-to-face classes this fall considering that school may look different with safety protocols in place?
Yes (78 responses 82%)
No (0 responses)
Unsure (17 responses 18%)
2. The USD 335 Board of Education is considering starting a virtual education program. Would your child(ren) enroll in this program if available?
Yes (36 responses 38%)
No (59 responses 62%)
3. What do you plan to do for transportation? (Each person could select multiple answers.)
Ride the bus to school-25 responses
Ride the bus home-21 responses
Drive or be transported to school-68 responses
Ride the activity bus to town drop off locations-11 responses
Will not need transportation due to participating in virtual learning-5 responses
4. What part of school life are you the most concerned about in regard to your child(ren)'s health? (Each person could select multiple answers.)
· Bus-17 responses
· Meal Time-24 responses
· Passing Periods-22 responses
· Locker Rooms-37 responses
· KSHSAA-28 responses
· None-16 responses
· Other responses included: Classroom cleaning, mental health concerns from isolation, assemblies, and restrooms.
5. Are there additional precautions we could have in place that would make you feel more comfortable sending your child(ren) to school? Please use this space to write any other comments you have regarding student health and safety during the school day or KSHSAA activities. (Response topics are listed below.)
Do temperature checks.
Stress not coming to school if you have symptoms.
Educate kids about virus.
Handwashing/ hand sanitizer/Germ X
I support outdoor learning.
Masks-Multiple comments were made for and against masks.
Follow Jackson County guidelines and it should be fine.
No sharing of supplies
Daily cleaning
Social isolation is a bigger concern than COVID-19.
Multiple comments were made expressing no concern for returning to school.